Computer Science partners with software company to develop simulation technology
By Kelly Foss | Oct. 23, 2013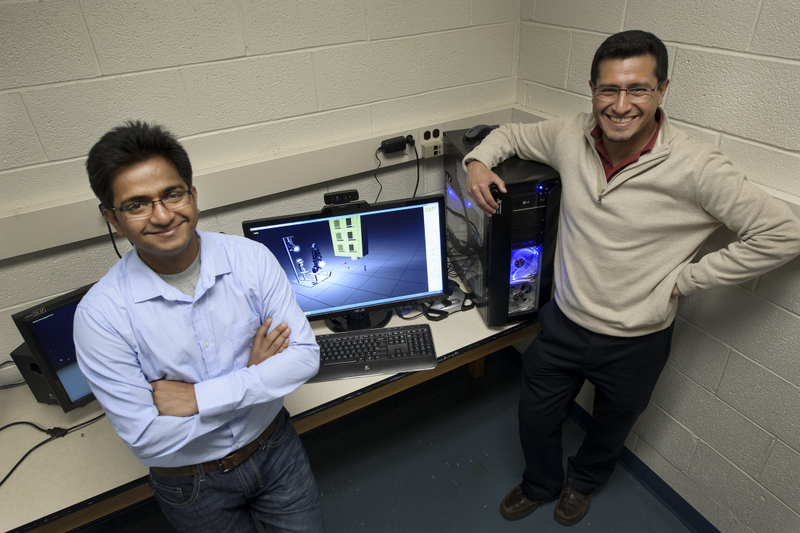 The Department of Computer Science has entered into a collaboration with a local remotely operated underwater vehicle (ROUV) support system developer.
GRI Simulations Inc. (GRI) is a software development company focused on real-time simulation, modeling, and visualization for critical marine activities. In particular, it supports sub-sea ROV operations by providing simulation technology to enhance pilot training, mission planning and rehearsal for offshore oil construction and production operations, military search and rescue and mine countermeasure activities.
The company recently contacted Dr. Oscar Meruvia-Pastor, who specializes in interactive 3-D computer graphics, rendering and tele-collaboration, to help improve the controls of their simulators and make them more accessible.
"GRI's software is quite sophisticated," said Dr. Meruvia-Pastor. "It is both a graphics and physics simulator which can also be used in the design of vehicles. The company could for example create a computer model of a vehicle and test the vehicle in different simulated environments.
"The company has industrial grade controllers to manipulate a ROV's robotic arm, but they are very expensive. They also use gaming joysticks, but these don't capture the complex movements available with the industrial controllers. My graduate student, Akhilesh Mishra, and I are working with commercial grade depth sensing cameras to manipulate the arm based on physical gestures, similar to the way you use a Kinect camera for playing video games."
Dr. Meruvia-Pastor says that a person can move their hands and the camera captures that movement, but what Mr. Mishra is doing is converting hand gestures into commands for the computer so the simulator can interpret what the user wants it to do.
He has been working with Dr. Matthew Hamilton, an alumnus of the Department of Computer Science's undergraduate program, on the project. Dr. Hamilton, now a research associate at GRI, instigated the collaboration.
"We had been looking for an industry partner, but they actually came to us because of other research interests," said Dr. Meruvia-Pastor. "The project fits very well into our new 3-D Tele-presence and Tele-collaboration Lab funded by the Research and Development Corporation and demonstrates the potential of this kind of interaction."
The company has provided the duo with a copy of the software used in their simulations to work with.
"GRI's relationships with Memorial University and the Marine Institute allow students and researchers to learn from our cutting edge simulation technology," said Mr. Hamilton. "Using our products provides value to researchers to conduct testing in a realistic and challenging virtual environment without having to use a real ROV manipulator which would be expensive, clumsy to operate and would receive wear-and-tear."


Dr. Meruvia-Pastor says the goal is to be able to remotely operate a robotic arm using hand gestures with a greater degree of freedom and at a reduced cost.
"This type of research is very new as short-range depth cameras have only been commercially available in the last couple of years. If our work proves successful, it could be very relevant for GRI. We're trying to find solutions that go together well with the techniques they already have. It could become something they license to their clients along with their software."