Dare To campaign receives major gift to create accounting classroom
By Susan White-MacPherson | Oct. 18, 2013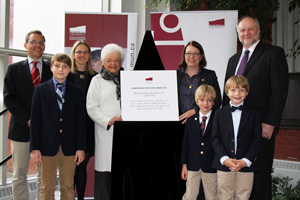 Memorial University recently announced a major gift to Dare To: The Campaign for Memorial University from a prominent member of the province's accounting community.
The donation is courtesy of Dr. Janet Gardiner, who became Newfoundland and Labrador's first female chartered accountant in 1956.
Dr. Gardiner's contribution has been designated to undertake renovations and purchase state-of-the-art classroom equipment to create a dedicated accounting classroom at the Faculty of Business Administration. Accounting is one of nine concentrations available to undergraduate students in the bachelor of commerce (co-operative) program.
"My family and I have had a long-standing relationship with the business faculty and with Memorial University for many years," she said. "I'm pleased to be able to provide accounting students at Memorial with an inviting place to learn and pursue their studies as they work towards embarking on their careers."
Dr. Gardiner was born in St. John's and earned a bachelor of commerce degree from Dalhousie University. She has received a number of accolades and commendations throughout her career, including becoming a fellow chartered accountant in 1991, holding directorships on the boards of Fishery Products International, Canada/Newfoundland Offshore Petroleum Board, Newfoundland and Labrador Hydro and Mutual Life of Canada, earning a honorary doctor of laws from Memorial University in 1998 and becoming a member of the Order of Canada in 2009.
Dr. Gardiner has also served on the advisory board of the Faculty of Business Administration and was the first woman to chair Memorial's Board of Regents. She was awarded the J. D. Eaton Award for service to Memorial University in 2008.
Her late husband, Peter J. Gardiner, was the head of the Department of Commerce at Memorial from 1957-66. His name was carried by the former P.J. Gardiner Institute and currently by the Gardiner Centre, an outreach arm of the business faculty that offers management and professional development training to business professionals, employees, executives and entrepreneurs in Newfoundland and Labrador.
Dr. Wilfred Zerbe, dean of the Faculty of Business Administration, says the gift will have an important impact on accounting students.
"The creation of a dedicated accounting classroom will help our accounting students continue their strong record of success in the professional accounting programs they undertake after graduation," he said. "As the new Canadian Chartered Professional Accounting program evolves, it will be critical that our accounting students continue to be well prepared. We are grateful to Dr. Gardiner and the Gardiner family for their ongoing support of the Faculty of Business Administration."